History and About
The Mayflower
The Mayflower departs Rotherhithe for Southampton to rendezvous with the Speedwell at Southampton for supplies. On departure for Virginia, the Speedwell runs into difficulties and both dock at Dartmouth for repairs and again at Plymouth where the Pilgrim Gathers are forced to abandon the Speedwell to make the crossing on their own.
The Speedwell
The Speedwell is the sister ship to The Mayflower. It departs Delft for Southampton but develops problems before the main voyage and is abandoned at Plymouth Harbour.
​
Some sources say it was built in Southampton. Attempts to repair her hull were made on Southampton Beach where she was careened.
The Shallop
The 3rd vessel 'The Shallop' was stowed in the Mayflower in two halves and reassembled on Cape Cod. her shallow drat allowed for exploration of potential harbours and inland waterways.
1620 Mayflower Departure
​
July 15: Mayflower left London
July 19: Mayflower arrived at Southampton
July 22: Speedwell left Delfshaven
Aug 5: Both ships left Southampton
Aug 10: Both turned back; Speedwell leaking
Aug 12: Both arrived at Dartmouth; Speedwell repaired
Aug 23: Both ships left Dartmouth
Aug 26: Both turned back; Speedwell still leaking
Aug 28: Arrived at Plymouth; Speedwell "Unseaworthy"
Sept 6: Mayflower left Plymouth for America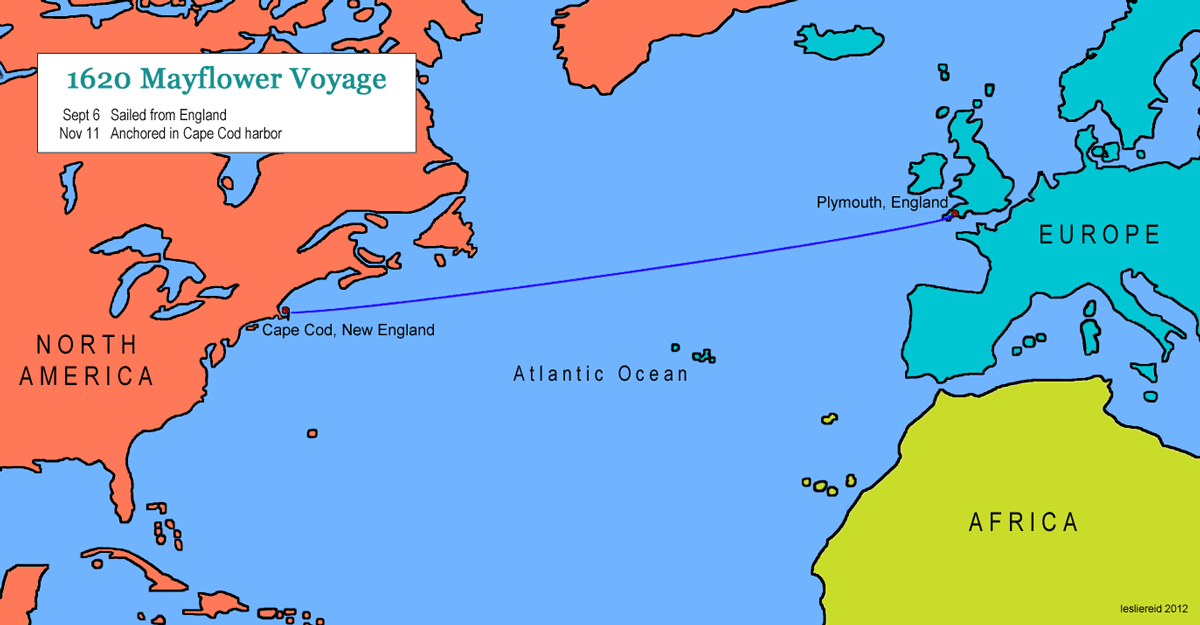 1620 Mayflower Voyage
​
Sept 6: Sailed from England
Nov 11: Anchored in Cape Cod harbour
1620 Mayflower Arrival
​
Nov 9: Sighted land at Cape Cod, turned south, sailed into dangerous waters, turned back

Nov 11: Anchored iin Cape Cod (Provincetown) Harbour

Dec 25: Attempted to sail across bay to Plymouth, wind was too strong, returned to Cape Cod harbour

Dec 26: Sailed across bay, anchored in Plymouth harbour
The Crossing
Principle Players
Edward Winslow
(18 October 1595 – 8 May 1655)
Edward Winslow was a Separatist who travelled on the Mayflower in 1620. He was one of several senior leaders on the ship and also later at Plymouth Colony. Both Edward Winslow and his brother, Gilbert Winslow signed the Mayflower Compact.
Winslow and his wife Elizabeth were part of the Leiden Separatist group who had decided to travel far away from England and the repressive regime of King James I to more freely practice their religious beliefs. Merchant Adventurer investment group agent Thomas Weston assisted in this venture by providing the ship Mayflower for the Pilgrim's journey.
Learn more about Edward Winslow and other key players on the walk...
​
Christopher Jones (Captain)
John Clark (Clarke), Pilot
William Brewster (separatist)
Stephen Hopkins (settler)
Edward Doty (servant)
Henry Wriothesley, 3rd earl of Southampton
William Bradford
Robert Cushman
John Carver
Christopher Martin
Thomas Weston
Miles Standish
Priscilla Mullins
John Alden
Robert Browne
William Brewer
Edwin Sandys
John Robertson
Stephen Hopkins
John Newcomen
John Billlington
Tours depart the statues of the Lions at the north side of the Bargate, on Sundays from 1st April to 30th September at 1.30 p.m.
Cost £6, accompanied children under 16 free.
Private walks by arrangement!
Intrigue & Adventure
Not all of the separatists got along. There were arguments between Martin and Cushman
Learn more about what went on behind the scenes on the walk...
​
Tours depart the statues of the Lions at the north
side of the Bargate, on Sundays
from 1st April to 30th September at 1.30 p.m.
Cost £6, accompanied children under 16 free.
Private walks by arrangement!
There was also some nefarious activity that helped fuel arguments an almost derailed the venture altogether.